Real Estate Investment Consulting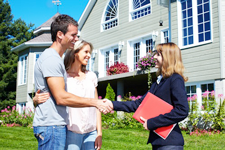 Oz Accommodations, Inc. views investment in real estate as an excellent addition to any individual's investment portfolio. The housing market offers investors and homeowners an excellent asset to hold for long term as a rental property. We believe this is an excellent choice.  More people are opting to rent verses purchase creating demand for property.  Owners trying to sell their homes lose months of potential income as the property sits on the market, especially if that property is not owner-occupied during the sales marketing period.  Turning that property into a rental investment increases the owner's cash-flow while letting the magic of time grow your investment value and rent income stream.
When thoughtfully analyzed, real estate investment property can be a powerful financial tool to build wealth for individual investors.  When you consider the tax advantages, estate planning benefits, cash flow, power of leveraging money, property appreciation potential, and principle balances being reduced, investing in rental property can be a valuable choice for you. Oz has the tools and people to assist in the accurate analysis of a potential property.  Oz also offers complete portfolio and construction services management. When it comes to investment real estate, Oz Accommodations' primary mission is to protect your investment and to enhance its performance over time.
Your Personal Consultation
Oz Accommodations, Inc. is committed to maintaining a high level of professionalism and integrity with you.  Oz takes the time to understand your unique goals and risk tolerances. Oz will work with you to customize a viable plan to achieve your investment objectives. Whether you are making your first venture into real estate, you already own a home for which you are considering using as a rental, or you are looking to enhance your investment portfolio, Oz can help you generate wealth in real estate.
Our market experience, real world actual data, and management of thousands of investor properties in the area enables us to accurately review a property's viability based on a non-biased point of view, void of sales commission rewards that can create bias and urgency to a specifically targeted property. Our role is to act on your behalf to review and to analyze the targeted property for purchase, providing you with a third party analytical review from the prospective of determining the risk of a specific property address and the income that can be realized.   Attracting quality tenants, estimating realistic cash flows, providing current rental market trends, and assessing deferred maintenance restoration costs are all taken into consideration.
The consulting output provided either validates the target property value or provides opportunity to adjust purchase offer price based on the findings of the review.  A rental analysis of a property provides protection to the investor by providing additional information to be used to make proper investment decisions. Link to Sample Rental Report.
The founder of Oz Accommodations also co-founded RentFax which is a tool now widely used by investors, lenders, property managers and insurance companies in vetting property. Oz Accommodations understands better than most the importance of good information when making investment decisions. Find a report that will be helpful if you are considering investing in rental real estate. Link to Report.
If you would like to learn more about investing in real estate rental properties, then please contact us.